Heartly welcome in our holiday flat "Akazienblüte" (acazia blossom), your domicile
close to the ancient UNESCO World Heritage city Bamberg

---
---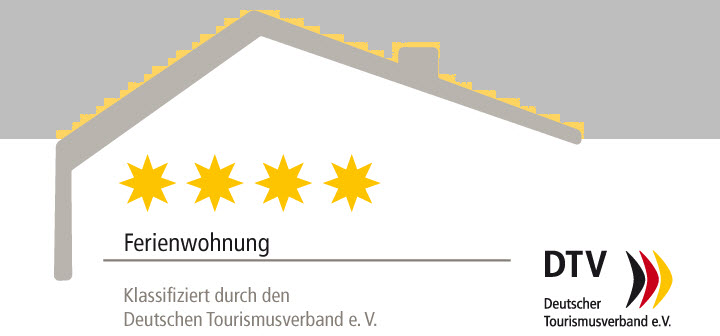 Your apartment
---
The tastefully decorated apartment, completely modernized 2016/17, is located on the top floor of a two family house in a quiet residential area in Memmelsdorf near Bamberg, Drosendorf, 8 km from the World Heritage city of Bamberg, close to meadows and fields.
The property (64 sqm) offers a spacious kitchen-cum-living room with dining area, a sleeping room, cloakroom, a spacious living room with addtional facilities for sleeping, and a small but beautiful shower room and is convenient for occupancy up to 4 people.
For our guests there is a private garden area with table, chairs, deck chairs, sun umbrella and barbeque.
The apartment has been awarded the **** four-star rating of the German Tourism Association (DTV) since July 2018 (for up to three people).
Explore Bamberg and the surrounding hills of the Franconian Tuscany with the new bikes.
---
Your surroundings
---
Explore the beautiful landscapes and surrounding hills, also called "Franconian Tuscany", with their cultural wealth and culinary delights, right from your doorstep.
Numerous excellent walking-hiking and biking trails invite you for walking, jogging, hiking and cycling in the nature. Stroll through the nearby acacia forest, which is particularly enchanting to the "acacia blossom", let yourself be inspired by art and nature on the Sculpture Trail and enjoy Seehof Palace with its magnificent cascades, where even the Bamberg prince bishops spent their summers.
The icing on the cake of Franconian enjoyment is the beer culture! On varying hike and bike tours with "delicious destinations" you can get to know the tradition of local small brewery inns and "bier garden".
The "Bamberger Land" is also an eldorado for cyclists! Conquer the nearby Giechburg and Gügel by bike on one of the various cycling trails and enjoy the beautiful panoramic view of the Bamberg Land or explore the European natural heritage by kayak on the rivers Regnitz and Main.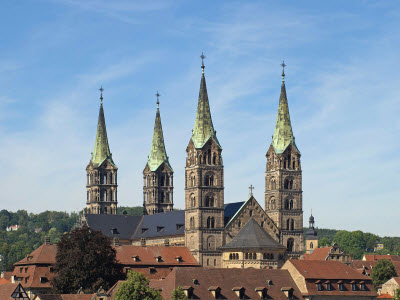 World Cultural Heritage Bamberg
Experience a fascinating city full of history and culture - alive - sublime - romantic - impressive - authentic - loveable!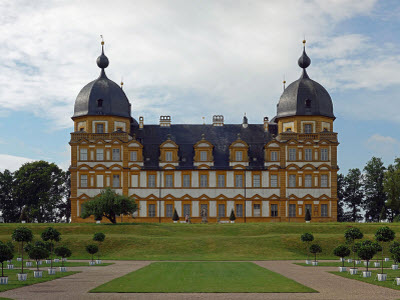 Seehof Palace
Former summer residence and the hunting lodge of the Bamberg prince bishops. In the Schlosskaffee you can enjoy coffee and cake overlooking the castle. Do not miss the cascade in the southern part of the castle park.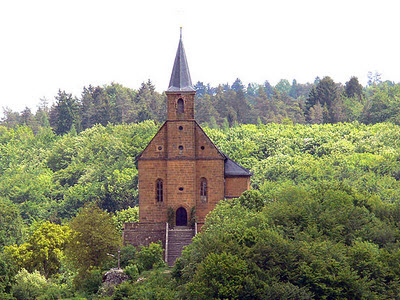 Gügel chapel
Pilgrimage church, near Scheßlitz, first documented in 1274 as a chapel in honor of St. Pankratius.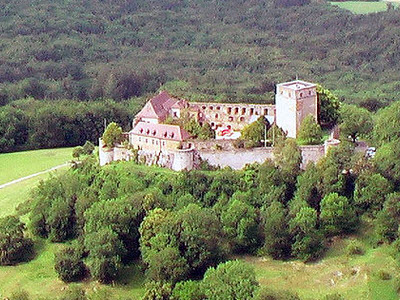 Giechburg Castle
Ruin of a hilltop castle near Scheßlitz and G&uum;gel
In good weather you can enjoy the view over the Bamberg region and even to Thuringia. The castle restaurant offers delicious homemade cakes and pies as well as tasty regional dishes.
---
Bamberg: UNESCO World Culture - Beer Culture - Pub Culture
---
The more than a thousand-year imperial and episcopal city today has the largest surviving historic city center in Germany. Spectacular examples of architecture are u.a. the Imperial Cathedral, the old town hall built in the river, the former fishing settlement "Little Venice" as well as the baroque palace Böttingerhaus, Altenburg, New Residence with rose garden, Alte Hofhaltung and ETA Hoffmann-House, Little Venice...
The unique ambience of Bamberg makes culture and "joie de vivre" an experience. 14 renowned museums and around 50 different beers, rustic pubs, beer gardens / beer cellars, regional culinary delights, as well as a wealth of event highlights (Concerts of the Bamberg Symphony Orchestra, Old Town Festival "Sandkerwa", World Heritage Run, etc.) document the cultural diversity of the city.
Particularly attractive is a visit to the Brose Baskets.
The cathedral with the famous "Bamberger Reiter", the tomb of the holy imperial couple Kunigunde and Heinrich II, created by Tilmann Riemenschneider, the Imperial Portal, the altar by Veit Stoß and its Cathedral Treasure.
Old Court (Alte Hofhaltung) with its court yard from the 15th century
Old Town Hall, built in 1461, with illusion paintings in Baroque style and a collection of Baroque faience and porcelain
Th New Residence with its rose garden: The first of the two construction phases, in the style of the Renaissance by Prince-Bishop Johann Philipp von Gebsattel 1602 initiated, today forms the backward facing part of the building. Between 1697 and 1703, under Prince-Bishop Lothar Franz von Schönborn, the second part of the New Residence was built in baroque style.
St. Jakob, the Carmelite Monastery and the former monastery of St. Michael with its wonderful view of the old town and Cathedral mountain
Drosendorf offers a starting point for innumerable further attractions of a landscape as well as cultural kind in the closer environment. Vierzehnheiligen - Basilica of the Fourteen Holy Helpers, designed by Balthasar Neumann, Kloster Banz - former Banz Monastery, Gößweinstein with the pilgrimage cathedral of Balthasar Neumann, Weißenburg Palace, Coburg, Kronach, the city of Lucas Kranach, the marvellous small city of Sesslach und Kulmbach are some highlights next to the mansions, castles, palaces and churches to be discovered in many small towns.
To relax: Visit the Obermain Spa in Bad Staffelstein with its extended sauna area!
You plan to book, you have question or you want to give us a feedback about your stay? We are ready to support! Dont't miss to provide your contact data! We are happy to meet you — Your Behr family!
| Zeitraum | 1 - 2 people, per day | for each additional person, per day |
| --- | --- | --- |
| November to Februar | 60 € | 20 € for adults, 15 € for children up to 16 years |
| March to Oktober | 63 € | 20 € for adults, 15 € for children up to 16 years |
Additional fee 20 € for cleaning and inclusive the following provisions.
Minimum stay: 2 nights (1 night upon request with additional fee), arrival after 16:00, departure until 11:00. Other times upon request.
Payment in advance by bank transfer including 150,00 € deposit (in cash).
linen
towels
shower gel/li>
table linen
WLAN
Info sheet and a small surprise as welcome
small collection of books, CDs, DVDs and games
Additional servicesupon request for additional fee
Cancelation policy
Free of charge until 30 day before booked arival date. 50 % of the overall amount until 10 day before booked arival date; afterwards 75 % of the room rate.
Further information
Non-smoker apartment, no pets.
---
Testimonials
---
The place is beautiful, close to Bamberg in a tranquil village. The apartment is well furnitured and design as well as very clean. ***** This place is worth the price. (Beate und Freunde, Polen, April/Mai 2023)
Alles top. ***** Wir kommen gerne Mal wieder für hoffentlich einen längeren Aufenthalt. Vielen lieben Dank. (Julian, April 2023)
Great Brauries, great food stores, wonderful walking area, the houses are beautiful to look at and plenty of castles to drive to and see. The best trip I always take is to Germany, a most friendly, accomodating and polite country. The stay was wonderful, Franconia is beautiful, the people are all friendly, Sonja was terrific. One could not ask for more. ( Art & Sylvie, Chicago, Illinois, April 2022 )
In Ihrer Ferienwohnung haben wir uns sehr wohl gefühlt. Gerne kommen wir wieder. Alles war perfekt vorbereitet und Sonja hat uns liebevoll aufgenommen. ( Bettina, Weihnachten 2021)
Das Appartement war wunderschoen eingerichtet und sehr geräumig. Alles war vorhanden. Herzlichen Dank fuer die Wein und andere Leckers, wir wollen das Haus empfehlen bei unsere Bekannten! Liebe Gruesse! (Jan und Petra, Niederlande, November 2021)
Wir hatten eine tolle Zeit und haben uns sehr willkommen und wohl gefühlt. Die Wohnung ist sehr liebevoll gestaltet und super ausgestattet. Gute Lage, herzliche Kommunikation mit Edith und Sonja vor Ort, die uns bei allen Fragen unkompliziert geholfen hat. Wir haben super spontan gebucht und alles hat dennoch entspannt geklappt. (Doreen und Rike, Mai 2021)
Wunderbare Wohnung in traumhafter Lage. Wir durften eine traumhafte Woche in der hervorragend ausgestatteten, sehr liebevoll eingerichteten, sauberen und gemütlichen Ferienwohnung in direkter Nachbarschaft zu Bamberg verbringen. Die Gastgeber bieten in der Wohnung alles, was man für entspannte Tage braucht und wir bekamen viele Tipps für Unternehmungen schon im Laufe der Buchung, und fanden weitere auch in der Wohnung vor. Die Zeit verging wie im Fluge mit wunderschönen Wanderungen und Ausflügen nach Bamberg und Coburg, Seehof und Forchheim, zu einem der zahlreichen Badeseen in der Umgebung und zu diversen Brauereigasthöfen und Bierkellern. Wir planen schon einen erneuten Aufenthalt in 2021. (Claudia, Juli, 2020)
Sehr saubere und modern eingerichtete Wohnung, in der alles vorhanden ist, was man braucht. Sie liegt sehr ruhig, aber doch verkehrsgünstig in einer herrlichen Umgebung. Die Betreuung vor Ort war sehr herzlich und auch der Kontakt zu den Vermietern war sehr angenehm. Wir können die Wohnung nur empfehlen und kommen gerne wieder. (Gudrun und Ralph, November 2019)
Ediths Wohnung ist sehr stilvoll eingerichtet und man kann sich dort richtig wohl fühlen, findet alles vor, was man dafür braucht. Die Wohnung ist ruhig gelegen und von der Einrichtung her genau so, wie sie beschrieben wurde. Sonja empfing uns sehr herzlich und freundlich beim Check-in, nachdem Edith uns vorher mit allen notwendigen Informationen umfassend und sehr aufmerksam versorgt hat. So startete der Urlaub schon im Vorfeld durch eine freundliche, zugewandte und unkomplizierte Kommunikation, die vor Ort - betreut durch Sonja - aufmerksam fortgesetzt wurde - kurzum - es war rundum schön. Wenn man nicht den Trubel von Bamberg direkt braucht und eine schöne Zeit in ruhiger Umgebung vorzieht, dann ist die Wohnung samt der liebenswürdigen Gastgeber sehr zu empfehlen. Wir haben uns dort sehr wohl und "wie zu Hause" gefühlt. (Silke und Hagen, Oktober 2019)
A million "Thank you`s" to Sonja Zettner, who is the caretaker of this Apartment, who made sure that our visit was absolutely perfect and that we wanted for nothing. The apartment was sparkling clean, much more spacious then we originally thought. It is tastefully decorated, and any request we had was met promptly. The Garden is lovely, my Brother in-law enjoyed his morning coffee out there daily. everything was wonderful and we will be sure to stay there again. Die Wohnung war wunderbar! Sonja war super freundlich. Der Garten wunderschön. (Anja und Familie, North Dakota, September 2019)
Wir hatten eine tolle Zeit in der Ferienwohnung von Edith. Die Wohnung ist schick, groß, toll ausgestattet, sauber, mit einer großen Auswahl an Infobroschüren über die Gegend und einer super Betreuung vor Ort. Wir hatten einen entspannten Urlaub und können die Ferienwohnung wirklich weiter empfehlen. Danke dafür! (Viktoria und Jürgen, August 2019)
Die Ferienwohnung ist liebevoll eingerichtet und es fehlt an nichts. Für unsere Familie mit zwei Kindern war alles super vorbereitet: vom Kinderbettchen über den Kinderstuhl, das Kindergeschirr, das Bett für unsere Tochter, ... Die Wohnung wurde blitzblank sauber übergeben. Sonja, die sich vor Ort um die Wohnung kümmert, ist die gute Seele, die wirklich an alles denkt. Der Kontakt zur Gastgeberin ist super nett und zuvorkommend. Sie hat uns auch mit vielen Tipps versorgt, was man in der Umgebung unternehmen kann. Wir können die Ferienwohnung, in der wir uns sehr wohl gefühlt haben, uneingeschränkt empfehlen. (Stefan und Familie, Juli 2019)
Sehr schönes Appartment in ruhiger Lage. Liebe Edith, es hat uns super gefallen, herzlichen Dank nochmals für die tolle Unterkunft. (Thomas und Familie, Juli 2019)
Absolutely lovely apartment with everything you could hope for, especially given the very reasonable price. Highly recommended! (Alex and Athletic-team, UK, 2019)
Super Wohnung. Tolle Gastgeberin. Alles war wunderbar. Wir kommen gerne wieder. (Alexander und Familie, Juli 2019)
Toller Gastgeber, sehr schöne Unterkunft mit komplett durchdachtem Konzept und allem was das Herz begehrt sowie top Betreuung von Sonja vor Ort, nochmals lieben Dank. (Jana und Joachim, Weihnachten 2018)
Wir haben uns in Ihrer Wohnung sehr wohl gefühlt. Sie ist sehr großzügig, vor allem sehr geschmackvoll eingerichtet und alles, was man benötigt um einen schönen und erholsamen Urlaub zu erleben, ist vorhanden. (Franz B., Oktober 2018)
A perfect stay / Ein vortrefflicher Aufenthalt!
The hostess was very friendly and extremely helpful. She explained how to use the flat in great detail. The flat was SPOTLESSLY clean and everything you might wish to use was available. There was a pleasant view from the kitchen and the living room. The flat was easily accessible (you need a car) and close to the beautiful city of Bamberg which is definitely worth a journey. An unforgettable experience.
I would DEFINITELY recommend this location. Everything was PERFECT!
Frau Zettner (Sonia) war sehr freundlich und hilfsbereit. Sie hat uns erklaert, wie alles in der Ferienwohnung funktionierte. Die Wohnung war EXTREM sauber und hatte alles, was man brauchen wollte. Die Wohnung war leicht erreichbar (man braucht einen Wagen) und 8 km von der wunderschoenen Stadt Bamberg entfernt. Bamberg ist sicherlich eine Reise wert. Unser Aufenthalt war eine unvergessliche Erfahrung und ich würde diese Ferienwohnung OHNE ZWEIFEL empfehlen. Alles war PERFEKT! (Pierre and Helen, Liverpool, September 2018)
We had a very good and relaxing time in your apartment, thanks a lot for your hospitality! The interior looks brand new and is in an excndition. Bamberg We stayed for a weekend with four adults and one infant and although my husband and I often have difficulties to find a good sleep on bed couches (we left the bedroom to our friends with the baby) we fell asleep immediately and woke up relaxed. The apartment has many features and extras which are thoughtful and demonstrate the high level of service Edith provides to her guests. All communication was easy-going and check in and out was great. Parking was not an issue and the neighborhood is very peaceful and quiet but only a 15min drive away from Bamberg city center. We can 100% recommend this apartment also for longer stays and will consider it a first choice for any further visits! (Eva und Freunde, (September 2018)
The entire stay is worthy of FIVE STARS! Sonja and Michael were spectacular hosts as Sylvia and myself felt very much a part of the community here!!! This was the best visit/vacation we both ever enjoyed!! Thank you!
Beautiful location, amazing smiley people, enormously comfortable accommodations! (Art & Sylvia, USA, Juni 2018))
Edith's apartment far exceeded our expectations......it was extremely comfortable, spacious and absolutely spotlessly clean. Many thanks for the "welcome" goodies/wine. Sonja's help throughout the week was most appreciated as well as her jar of homemade strawberry jam!! We really enjoyed staying at Edith's apartment and wouldn't hesitate to return when we next visit the area. (Sherrie and Nigel, UK, Mai 2018)
Toller Ausgangspunkt für Tage in Bamberg und Umgebung. Es hat einfach alles gepasst. Wir kommen gerne wieder. (Martin und Rose, Mai 2018)
We had a fantastic stay in Drosendorf. My family (my son, my wife and me), stayed in Edith's apartment for 4 days in April. Communication with Edith and logistic information has been really fast and precise; at our arrival we have been welcome and introduced to the apartment by Sonja (very very kind). They have been exceptional hosts. The apartment is located in a very nice area near Bamberg, a strategic position for reaching easily all the best parts of the city. The apartment is very nice, very clean, large and perfect for a family, it looks even more beautiful than the pictures; the apartment is bright and airy, very well equipped, fully updated space with a large kitchen and there is also a beautiful garden; moreover there is a place for car parking. In a word: excellent! We highly recommend this apartment and the hosts. (Maurizio and family, Italy, April 2018)
Unser Aufenthalt in Drosendorf war rundum schön und wir haben uns in Ihrer sehr geschmackvoll gestalteten und perfekt ausgestatteten Wohnung sehr wohl gefühlt! Ein Bonus für unsere Tochter waren Sonjas Enkelkinder, mit denen sie ausgiebig gespielt hat:-) Wir kommen gerne wieder! (Anna und Familie, Belgium, April 2018)
Wonderful apartment, very nice people: It's the second time me and my family have booked this apartment for our stay in Bamberg. Edith and Sonja are very kind and helpful, the apartment is modern and fully equipped, the location is quiet and not far from the city. Highly recommendable! (Eliana, Italy, Februar 2018)
Leider ist unser Urlaub schon wieder vorbei, aber wir haben die Tage sehr genossen und uns sehr wohlgefühlt in Ihrer schönen, gemütlichen Ferienwohnung.
Wir waren bestimmt nicht das letzte Mal da! (Nicole, Dez. 2017/Jan. 2018)
Alles hat sehr gut und schnell geklappt und die Wohnung ist noch schöner als sie auf den Fotos schon ist. Alles sehr sauber und modern, ein schönes großes Wohnzimmer und dazu noch die super ausgestattete Küche und die bequemen Matratzen. Vielen Dank auch für das kleine Gastgeschenk und an Sonja! (Thomas, November 2017)
Eine sehr schöne Ferienwohnung in ruhiger Lage, liebevoll eingerichtet und voll ausgestattet. Gute Lage für Ausflüge nach Bamberg (ca. 20 Minuten mit Auto ins Zentrum) und in die fränkische Schweiz. Sehr herzliche Betreuung vor Ort und sehr nette Eigentümer. Einfach Klasse! (Marco, November 2017)
Wir hatten ein wundervolles Wochenende in der Unterkunft und möchten uns ganz herzlich bei Edith bedanken! Wir kommen gerne wieder! Beste Grüße, Behzad (Behzad, Oktober 2017)
Edith ist sehr freundlich und gibt ausführliche Info zur Wohnung und zu Alles, was man wissen braucht. Die Wohnung ist einfach perfekt: sauber, modern, mit allen Komfort, in einer ruhigen Umgebung in unmittelbarer Nähe von Bamberg. Die beste Wohnung, die wir bisher durch airbnb gefunden haben. Sonia ist sehr nett und empfängt die Gäste mit Freundlichkeit. Sicherlich empfehlenswert! (Eliana, Italien, Oktober 2017)
Die Wohnung von Edith ist bestens ausgestattet, modern und liebevoll eingerichtet und idealer Ausgangspunkt für Erkundungen in Bamberg und Umgebung. Die Kommunikation mit Edith war einwandfrei und es hat alles hervorragend geklappt. Wenn wir in der Nähe von Bamberg das nächste Mal eine Unterkunft benötigen, kommen wir gerne wieder! (Sabrina, Oktober 2017)
Sehr gut ausgestattete Ferienwohnung, freundliche Gastgeber, ruhige Lage... Wir waren sehr zufrieden, es war ein rundum schönes Wochenende. (Rita, Oktober 2017)
...da hat die Woche Urlaub, insbesondere die tolle Unterkunft, richtig gut getan. Vielen Dank für die schöne Unterkunft und die freundliche Betreuung von Sonja und Michael. (Ina und Michael, September, 2017)
Problemlose Kommunikation, sehr saubere und neu renovierte Unterkunft. Wir haben uns sehr wohl gefühlt! (Christina, September 2017)
Eine tolle Ferienwohnung, welche keine Wünsche offen läßt. Wir haben uns sehr wohl gefühlt. (Michael und Conny, Sept. 2017)
Die Wohnung hat keine Wünsche offen gelassen. Sie ist sehr liebe- und geschmackvoll eingerichtet und es fehlte definitiv an nichts! Gerne werden wir die Ferienwohnung weiterempfehlen, und es könnte durchaus sein, dass wir auch wieder mal persönlich vorbei schauen… Vielen Dank nochmals für alles – auch an Familie Zettner! (Christina und Ulrich, August 2017)
Es hat uns sehr gut gefallen in Ihrer Ferienwohnung, wir haben viel unternommen und den Aufenthalt genossen. Frau Zettner und ihre Tochter haben sich wunderbar um uns gekümmert. (Erich und Lidwina, August 2017)
Very nice, clean and modern flat on the top floor. Reserved parkingspace and a private corner for guests in the garden. We really enjoyed both the flat, the tiny village and the beautiful castle and surrounding park. Were!d fond of jogging and cycling, and we enjoyed the possibilietes of doing so along the fields. A nice detail, is the short morning walk to the bakery. (Elisabeth, Norway, Juli 2017)
Edith's place is a high end apartment where every tiny details are matching. The flat is well equiped - on top ofhe!d usual kitchen stuff there is also an iron, hairdryer, washing machine available. We got a lovely welcome present upon our arrival - we were really impressed! There are a lot of infomaterials about Bamberg and region available in the falt. If you want to spend your holiday in a stylish and comfortable accomodation in Bamberg: Edith's place is for you!

Vielen Dank für alles, die Wohnung war supertoll, besser als erwartet! Sonja und Michi waren lieb und sehr hilfsbereit. (Ágnes, Budapest/Hungary, Juli 2017)
Die Ferienwohnung ist nur zu empfehlen! Sehr um das Wohl der Gäste bemühte Gastgeber. Liebevoll und modern eingerichtet. Wir sind sehr zufrieden! (Olga, Juli 2017)
Edith's place is spacious and fully equipped. The location is perfect for exploring the enchanting city of Bamberg as well as the beautiful area which surrounds it. If you like to go cycling, Edith has excellent bikes for rent! All in all, a wonderful experience! (Matthijs, Niederlande, Juli 2017)
In dieser Wohnung stimmt einfach alles. Die Schlüsselübergabe lief problemlos und der Kontakt zu Sonja ist gleich herzlich und gut. Es gibt so viele Infos zu Bamberg, dass man keine Probleme hat, wenn man noch nichts vorbereitet hat. Ich kann dieses Juwel nur herzlich weiterempfehlen. Liebe Edith, auch dieses Mal war der Aufenthalt super. Da wir noch einen Tag drangehängt haben, konnten wir auch die schönen Biergärten besuchen. Die Wohnung ist superklasse und außergewöhnlich hilfreich bebildert. Vielen Dank für dieses niveauvolle Juwel, wir werden sicher wieder kommen. (Karin, Juni 2017)
Super neu renovierte FeWo vor den Toren von Bamberg. Es fehlte an nichts. Alle waren sehr nett und zuvorkommend. Wir würden wiederkommen und können die Wohnung nur empfehlen! (Jochen, Juni 2017)
Wir (meine zwei Freundinen und ich) haben nach einer schönen gemütlichen Unterkunft nahe Bamberg gesucht und diese definitiv auch gefunden. Die Begrüßung war sehr freundlich, wir wurden direkt empfangen und uns wurde alles in der Wohnung gezeigt. Alles sehr gepflegt, sauber, modern und neu. Man konnte bedenkenlos die Schlafmöglichkeiten, Handtücher im Bad und die sehr gut ausgestatte Küche nutzen. Sehr schön ist auch das immer ein Ansprechpartner zur Verfügung steht. Falls mal etwas sein sollte ist man da auf der sicheren Seite. Mit dem Auto ist man in knapp 15 Minuten in Bamberg. Vielen Dank für die schöne Unterkunft! (Sandy, Mai 2017)
Wir haben den Aufenthalt in Ediths perfekt eingerichteter und ausgestatteter Wohnung sehr genossen, es war einfach wunderbar! (Sarah, April 2017)
Wir (4 Mädels) waren übers Wochenende in dieser großartigen Ferienwohnung. Die Ausstattung ist wirklich top, man findet alles was man für ein Wochenende braucht. Gerade wird der Garten umgebaut und in ein paar Wochen wird es dann auch einen eigenen Terrassenbereich für die Gäste geben! Die Kommunikation mit Edith war super angenehm und schnell. Auch der Empfang bzw die Schlüsselübergabe mit Sonja war sehr herzlich und wir haben uns sofort Wohl gefühlt! Sollte das nächste Mädels-Wochenende wieder in Bamberg sein dann gerne wieder bei Edith bzw Sonja! Danke für ein super Wochenende! (Jasmin, April 2017)
Der Grund unserer Familienreise nach Deutschland war der Besuch meiner Schwester/Tochter anlässlich zur Geburt ihres Kindes. Wir waren begeistert von der feinen Ferienwohnung. Die Vermieterin Edith hat alles sehr gut organisiert und arrangiert. Wir alle erreichten eine sehr saubere, ordentliche, warme und romantische Wohnung, hr!d gut ausgestattet mit allen Hilfsmittel, wie z.B. wesentliche Küchenutensilien, Töpfe, Pfannen. Öl, Salz, Gewürze, Kaffee und Tee werden kostenlos zur Verfügung gestellt. Sonja, ihr Caretaker, hat uns unterstützt und sogar zum Supermarkt begleitet, das hat uns sehr geholfen und beeindruckt, sie war sehr freundlich und hilfsbereit! Wir hatten einen sehr angenehmen Aufenthalt und hoffen wirklich, bei unserem nächsten Besuch wieder hier in dieser guten und romantischen Wohnung sein zu können. Awesome! (Wang und Familie, Shanghai, Februar 2017)
Absolutely! We spent two wonderful nights at Akazienbluete and the only negative was, that we couldn't stay longer! The owner emailed us in advance with details and to offer advice. The apartment was lovely and had every imaginable amenity. The bed was more comfortable than any hotel bed during our 11 day trip! The Internet was truly high speed and worked perfectly. Sonja warmly greeted us and provided many helpful tips. We look forward to staying here again! (Lisa and Ted, Virginia - Dezember 2016)
Obwohl wir auch Regentage hatten, konnten wir auch Dank der exzellenten und hervorragend ausgestatteten Ferienwohnung wundervolle Urlaubstage erleben und unsere Altagssorgen vergessen. Eine Überraschung waren die netten Gastgeschenke, darüber haben wir uns sehr gefreut. Bei unserer Ankunft wurden wir von Sonja sehr freundlich und hilfsbereit begrüßt und wir hatten gleich herzlichen Kontakt. Sollten wir nochmals in dieser schönen Landschaft Urlaub machen,dann sicher wieder in der "Akazienblüte"! (Verena und Stefan, Oktober 2016)
Die Wohnung ist noch schöner als man anhand der Fotos erahnen kann.
Die Unterkunft hat alle Erwartungen erfüllt bzw. noch übertroffen. Die komplette Einrichtung ist hochwertig, stilvoll und es gibt alles was man für einen gemütlichen Aufenthalt braucht. Ich war vor allem von der farblich abgestimmten Einrichtung begeistert. Es hat alles gepasst. Die Übergabe und Abnahme war problemlos, dank Sonja. Die gute Bücherauswahl hat den (tollen) Fernseher überflüssig gemacht. Wir werden sicher wieder kommen. (Karin, Oktober 2016)
Wir wurden sehr herzlich empfangen. Alles war perfekt vorbereitet. Die Wohnung ist sehr gut ausgestattet und geschmackvoll eingerichtet. Edith hat an alles gedacht, damit man sich dort wohlfühlen kann. Es liegt umfangreiches Prospektmaterial von Bamberg und der Fränkischen Schweiz bereit. Die Wohnung liegt perfekt um Bamberg und das Umland zu erkunden. Im Ort gibt es sogar eine Brauerei. Der Kontakt zu Edith und Sonja (Kontaktperson vor Ort) war unkompliziert und herzlich. Wir haben uns sehr wohl dort gefühlt. Vielen Dank!! Jens, Felix und Christiane (Oktober 2016)
We had a great and unforgettable time at Edith's place. At the very beginning we got to know Sonja, a lovely and caring woman, who's been taking care for the house/flat. A personal assistance of Edith who has been managing the check-ins and outs when the host themselves was out of town. Sonja showed us around and gave us a feeling of being welcomed. We literally fell in love with the cosy flat and its neatness and warmth. It was a special, well decorated place with lots of detailled furniture such as selfmade pictures and paintings which were hanging all over the walls in every room. The kitchen was well equipped and we got free coffee and tea. Soft drinks as well as vine you could get for a little amount of money. The living room was offering a spacious flat screen tv with lots of dvd's. We got to watch "La vie en rose" and enjoyed the movie with a glass of vine. Memmelsdorf was a cute and dreamy little town with quite good hike and walking routes. We really enjoyed to experience the castle Seehof where we got to know its history and beauty. Since we were traveling by car every other town was reachable within a few minutes. It took us around 30 min. to get to the great Bamberg. A stunning city with a lovely architecture and taverns with great frankish food. Sonja and Edith were our super hosts who really cared for our needs. We made ourselves comfortable at "their" house and we were totally sure about getting there again someday in the future. Thank you Sonja, thank you Edith. Special thanks to the amazing tasting red vine you gave us for our sweet start in your lovely home. Cheers, Martina, Irina and Rosi (Oktober 2016)
Wir durften 3 Wochen in der Ferienwohnung Akazienblüte genießen. Gerade beim Start in einen neuen Job und mittendrin in einem Umzug, war diese Wohnung für uns eine Oase. Obwohl wir dort kein Urlaub verbrachten, war der Aufenthalt sehr entspannend. Das geschmackvoll modern eingerichtete Apartment ließ auch in Punkto Ausstattung und Sauberkeit keine Wünsche offen. Wir haben uns auf Anhieb wie zuhause gefühlt. Die herzliche Betreuung durch Sonja hat dem Aufenthalt sogar einen besonders persönlichen Charme verleiht.
Wir werden Akazienblüte jedem weiterempfehlen, der Bamberg und die schöne Umgebung erleben möchte und eine Alternative zu einem langweiligen Hotel sucht.
Wir wünschen Edith und Franz-Josef weiterhin viel Erfolg und freuen uns als neue Nachbarn auf ein baldiges Wiedersehen. (Peter & Marta, Juli 2016)
There aren't enough good words to describe our stay at Edith's apartment in Memmelsdorf! It was fantastic overall!
Sonja was there to greet us (she lives on the first floor of the home and looks after the space we stayed in). Edith had told us that Sonja would be there to greet us upon arrival and when we pulled up we saw Sonja waving at us with the biggest smile! She is the kindest lady and made our stay even more special. Sonja gave us a tour of the apartment, showing us the bedroom, living room, spacious kitchen and beautiful bathroom. The space itself is just how it looks in the pictures, but better! It's clean, comfortable and so pretty. Very well located - especially for us because we were going to my best friends wedding at the Giechburg castle, which Sonja showed us from the window!! The views from the apartment were also lovely. The apartment was easy to find in the town, and it was near a main grocery store and a local bakery, biergarten and shops. The bathroom was very clean, modern and spacious. The wifi was fast and worked great. The kitchen was well stocked with utensils, plates, cups, etc. and Sonja let us know how to find and use things in the kitchen if needed. The bedroom was very, very comfortable and roomy. Lots of space.
Edith and Sonja were so kind and helpful during our entire stay and made us feel very welcome and special (it was also our honeymoon and Sonja put heart shaped balloons and flower petals in our bedroom and that was such a sweet, lovely touch that we very much appreciated!). Although we didn't get to meet Edith, she was very responsive via Airbnb messages, but Sonja was there for all of our needs and was so eager to help with whatever we needed. Overall, I don't have enough space to write all the positive and nice things about this apartment. I highly recommend it if you'll be in the area! My husband just said that if this place could get 10 stars it should because it's that awesome! (Kristen, Florida, August 2016)
Toll ausgestattete, moderne Wohnung mit allem Komfort. Guter Kontakt zur Vermieterin und sehr netter Empfang vor Ort. Ich kann die Ferienwohnung nur empfehlen! (Kirsten, Juli 2016)
Perfect stay just outside of Bamberg. Clean, modern and practical. Everything we needed for our stay. Thanks! (Ryan; Texas, Juni 2016)
Sonja was very nice and helpful. The flat was very clean and comfortable. The neighborhood was quiet and safe. Extremely pleased! Would do it again!! (Saundra, Missouri, Mai 2016)
We had an amazing weekend at this lovely flat in Memmelsdorf (Drosendorf) in Germany. The flat is just as fresh and new as it looks like in the pictures and the area is so nice and calm. Checking in late was no problem and we were taken well care of by Sonja, the neighbour in the downstairs apartment. Since we also arrived quite late in the evening, Sonja had bought a variety of breakfast products for us and the apartment was also fully equipped with coffee, tea, salt sugar etc. and all the kitchen appliances you could possibly need. The apartment is located about a 10 min drive from Bamberg, so not bad at all if you have a car (which we did). Although it is also accessible by public transport.
Bamberg itself is also a great town, but it was nice to be able to get away from all the other tourists in the evening we we came back to the flat outside town. All in all we found this flat absolutely amazing and way better than any hotel! We will definitely go back here if we ever visit Bamberg again. (Jannika, Finnland)
We can't recommend Edith highly enough!! Edith and her husband were there to welcome us upon arrival, despite living far away from Bamberg. They gave us a very warm welcome. They have loads of information on the area in the apartment to read and/or borrow when sightseeing (in multiple languages!), and they provided us with personal tips for restaurants etc. The apartment is very clean and has everything you could possibly need. The kitchen is well-appointed and has all the necessary kitchen utensils, as well as coffee, tea, etc. The dishwasher and washer were welcome as well! The beds were very comfortable. Although Edith and her husband live far away, they have a wonderful caretaker, Sonja, who is there if anything is needed. ... We would definitely stay at this apartment again. (Mara, Niederlande)
---
Contact and Imprint
---
Edith und Franz-Josef Behr

Im Brunnenfeld 20a
76228 Karlsruhe
Telefon:
+49 (0) 721 45 33 35
e-Mail:
Website: www.akazienbluete.de
Data Protection Declaration
Hinweis zur Online-Streitbeilegung gemäß Art. 14 Abs. 1 ODR-VO: Die Europäische Kommission stellt eine Plattform zur Online-Streitbeilegung (OS) bereit, die Sie unter http://ec.europa.eu/consumers/odr/ finden.
---